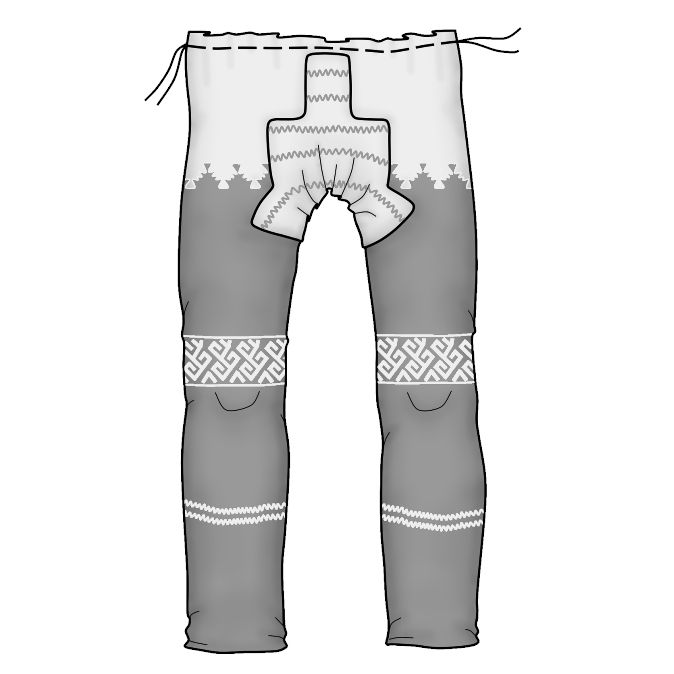 1200 BCE Turfan Trousers
1200 BCE Turfan Trousers — From Archaeological Find: Yanghai Cemetery!
29.90
The first multi-sized sewing pattern of the oldest trousers in the world! This amazing garment is over 3000 years old. Try your hand at recreating the clothing of an ancient mounted warrior. These stepped trousers were invented by the Subeixi people of China.
13th Century BCE Central Asia, pre-Han Dynasty China. Subeixi, Scythian, and Eurasian Steppe peoples.
Each pattern contains a pair of sizes. Choose Men's sizes according to waist circumference: A/B, B/C, C/D, D/E, E/F, F/G, G/H, H/I, I/J or J/K. You can choose the same waist as on the label of your modern pants, see the size chart.
This is a full-size printable PDF pattern. You can simply print it at home on regular size paper! It's easy to assemble by taping the sheets together. We include helpful coversheets and a small free pattern on which you can test your printer settings.
You will also get a 14-page digital guidebook, with a step-by-step sewing tutorial as well as historical notes. Includes both inches and metric system.
After your purchase we will email you a measurement form with easy-to-follow instructions. Once we collect your measurements, you will receive your custom digital pattern & guidebook usually within 1-3 business days.
Ulrike Beck et Mayke Wagner, CC BY-SA 4.0, via Wikimedia Commons